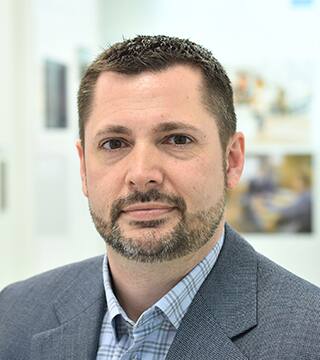 Jussi Oijala is the senior vice president of Supply and Sourcing for KONE Americas. In this role, he is responsible for the supply and sourcing operations and quality across the United States, Canada, and Latin America. Jussi is also charged with integrating KONE Americas delivery chain and product offering into KONE's global market. He leads our KONE AllenPlace team and our Supply Operations for KONE Americas. A senior executive with over 25 years of experience, Jussi is a proven global leader in research and development (R&D), product development, supply operations and quality management.
Before joining KONE Americas, Jussi served as the senior vice president of Global Technology and R&D for KONE in Espoo, Finland. In this role, he oversaw the global technology centers in Finland, China, India, Italy, Germany, Mexico, and the United States. He also had full responsibility of the solution creation process and of the global technology strategy and budget.
Through a series of progressive positions in KONE R&D, including vice president of R&D and assistant vice president of Product Development, Jussi took charge of global product development and the R&D processes. He also worked in Milan as the research development manager, where he worked on the development of the machine room-less elevator.
Prior to joining the R&D sector, Jussi spent more than four years working in manufacturing and supply operations for KONE in Finland and Italy.
Jussi began his career with KONE in 1990 as the quality manager for the elevator factory in Hyvinkää, Finland. Before joining KONE, he held various positions with Finnair, Stanford, and Valmet Corporation.
Jussi received his master's degree in aeronutical engineering from Helsinki University of Technology and his MBA from Santa Clara University.